Double Chocolate, Raspberry & Tahini Swirl Brownie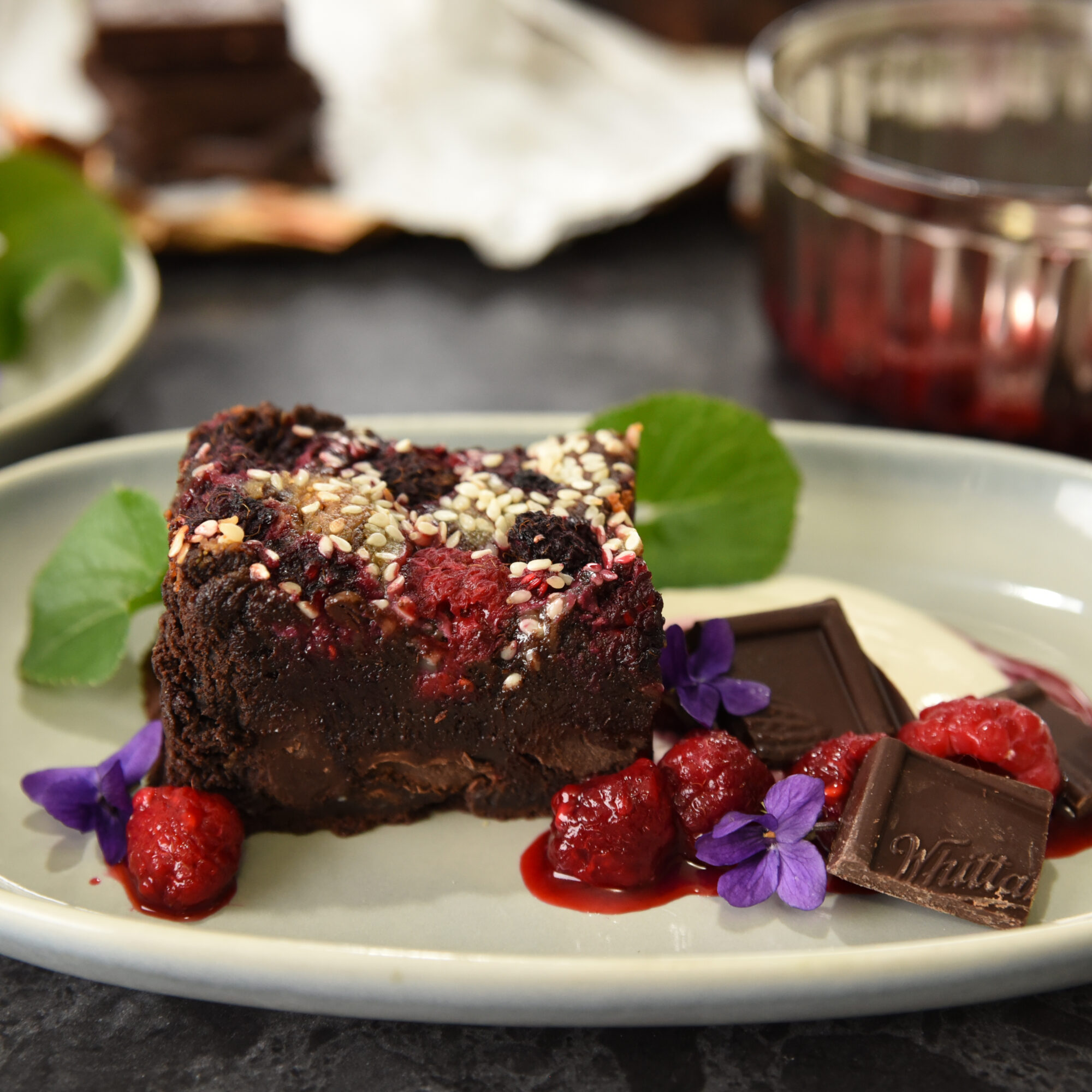 Another reason for our tahini love affair! This luscious double chocolate and raspberry brownie is so rich and irresistible. We cut our luxurious brownie into small pieces for those rich chocolatey pops that satisfy the chocolate cravings. The unexpectedly heavenly lingering taste of honey and tahini in your mouth makes this brownie stand out from the crowd.
Share this brownie if you dare! Or win friends and influence people as they come back for more of this decadent treat.
250
g
dark chocolate (62 per cent cocoa), roughly chopped
1
tbsp
brown or white rice flour
2
tbsp
good quality cocoa powder
1
cup
fresh or frozen raspberries (if frozen don't thaw first)
Prep Time20 minsCook Time25 minsTotal Time45 mins
1
Grease and line with baking paper a 20cm square cake tin, or if deeper slices required, a 20 x 10cm loaf tin.
2
Preheat the oven to 160°C fan bake.
4
Put 150gms dark chocolate, butter and the remaining 1 tablespoon of Alamir Bakery Tahini in either a heatproof bowl over a saucepan of simmering water (do not let the base of the bowl touch the water), or microwave on defrost, and melt, stirring occasionally, until smooth. Set aside to cool.
5
Beat the eggs, both sugars, salt and vanilla in the bowl of a standing mixer until light and doubled in volume, about 5-8 minutes.
6
Beat in the cooled chocolate mixture, scraping down the sides of the bowl, until fully mixed.
7
Sift the cornflour, rice flour and cocoa powder into the bowl and, on low speed, mix until combined. Turn to high speed and beat for 1 minute until thick and glossy.
8
Chop the remaining 100gms of chocolate, fold it into the mixture. Pour half the batter evenly into the prepared tin, top with half the honey & tahini mixture. Scrape the remaining half the batter on top and spread so the batter is even.
9
Dot spoonfuls of the tahini/honey mixture over the top and lightly swirl into the batter with a thin skewer. Dot over the raspberries then sprinkle over the sesame seeds.
10
The cooking time will vary depending on the size pan used. for the 20cm square pan bake for 25 minutes, or until puffed and there's just a slight wobble in the centre. For the loaf tin bake for 45 mins. Leave to cool completely in the tin before removing. Cut into pieces.