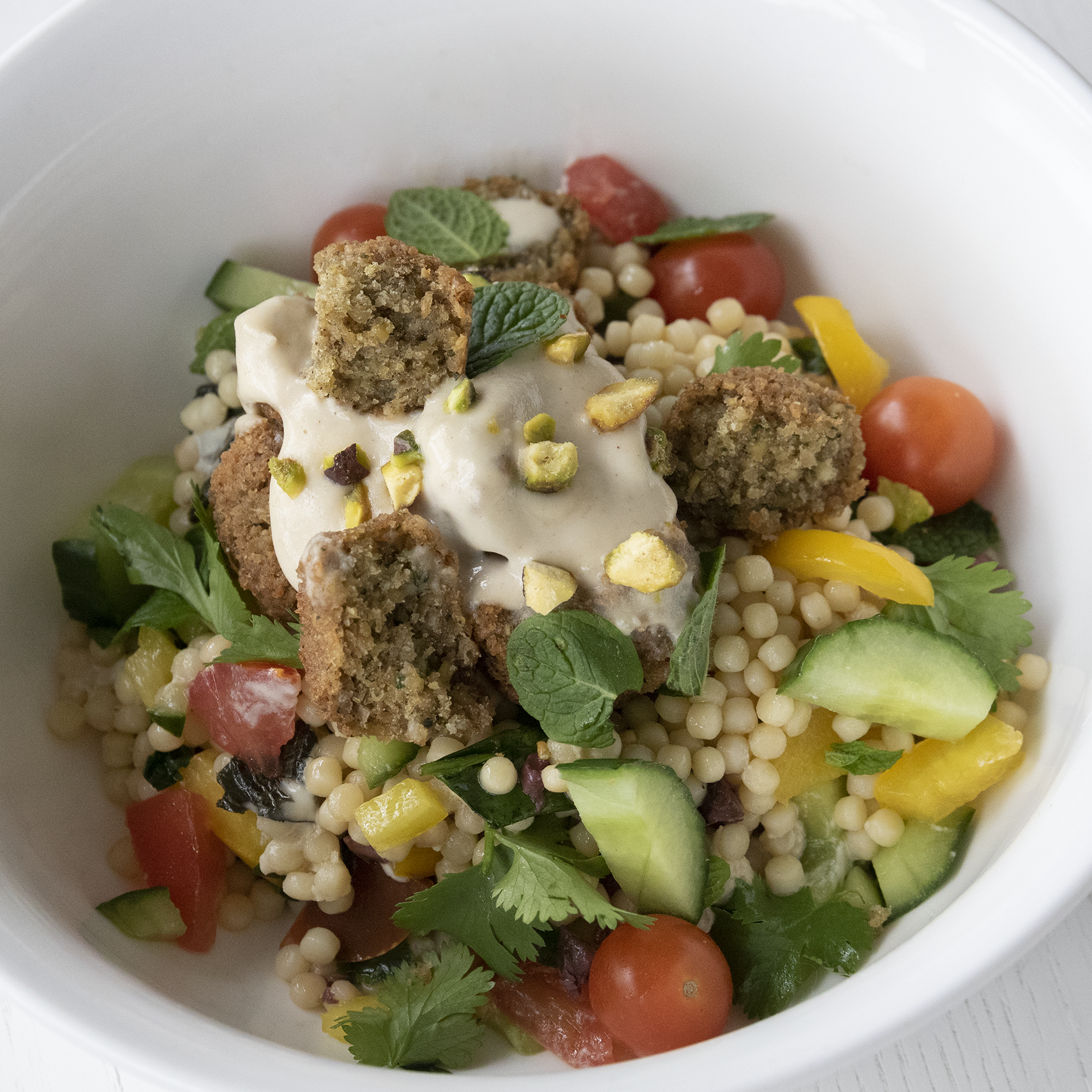 The one recipe for every occasion - eat at home, picnic perfect, potluck favourite, fresh and delicious, make this your signature dish!
Falafel is the star of this easily assembled, versatile, vegan dish. Falafel is a deep-fried ball or patty that is made from either chickpeas or fava beans and spices. It is a vegetarian and vegan food and one of the most widely consumed and recognized foods of Lebanon and the Middle East. 
Nestle our delicious Falafel Bites in a bed of tasty herbed couscous and salad vegies, add sensational creaminess with a generous dressing of our garlicky, tangy Tarator.  Enjoy!
1
packet of pearl couscous
small handful, roughly chopped stoneless black olives
3
tomatoes - roughly chopped
½
telegraph cucumber (or 2 lebanese) - halved, deseeded and roughly chopped
1
yellow capsicum - deseeded and roughly chopped
1
handful of toasted pepitas (small pumpkin seeds), optional, or roughly chopped pistachios
Prep Time15 minsCook Time15 minsTotal Time30 mins
2
Heat 30mls olive oil in a medium-sized saucepan. Add contents of packet of couscous and stir to coat. Add 2 cups of hot water and 1/2 teaspoon salt. Bring to a boil, cover and simmer for 7 mins, stirring occasionally. While still covered, remove from heat and let sit for a further 7-8 mins to let steam finish cooking.
3
While the couscous is steaming, place the Alamir Bakery Falafel Bites on a baking sheet lined oven-proof tray. Bake in pre-heated oven for 10 mins until piping hot.
4
Transfer couscous to a large mixing bowl and add 1 tablespoon of olive oil, the mint, parsley, coriander, olives, cucumber, tomato and capsicum to the couscous mix and gently mix through.