Layered Tomato and Chickpea Stew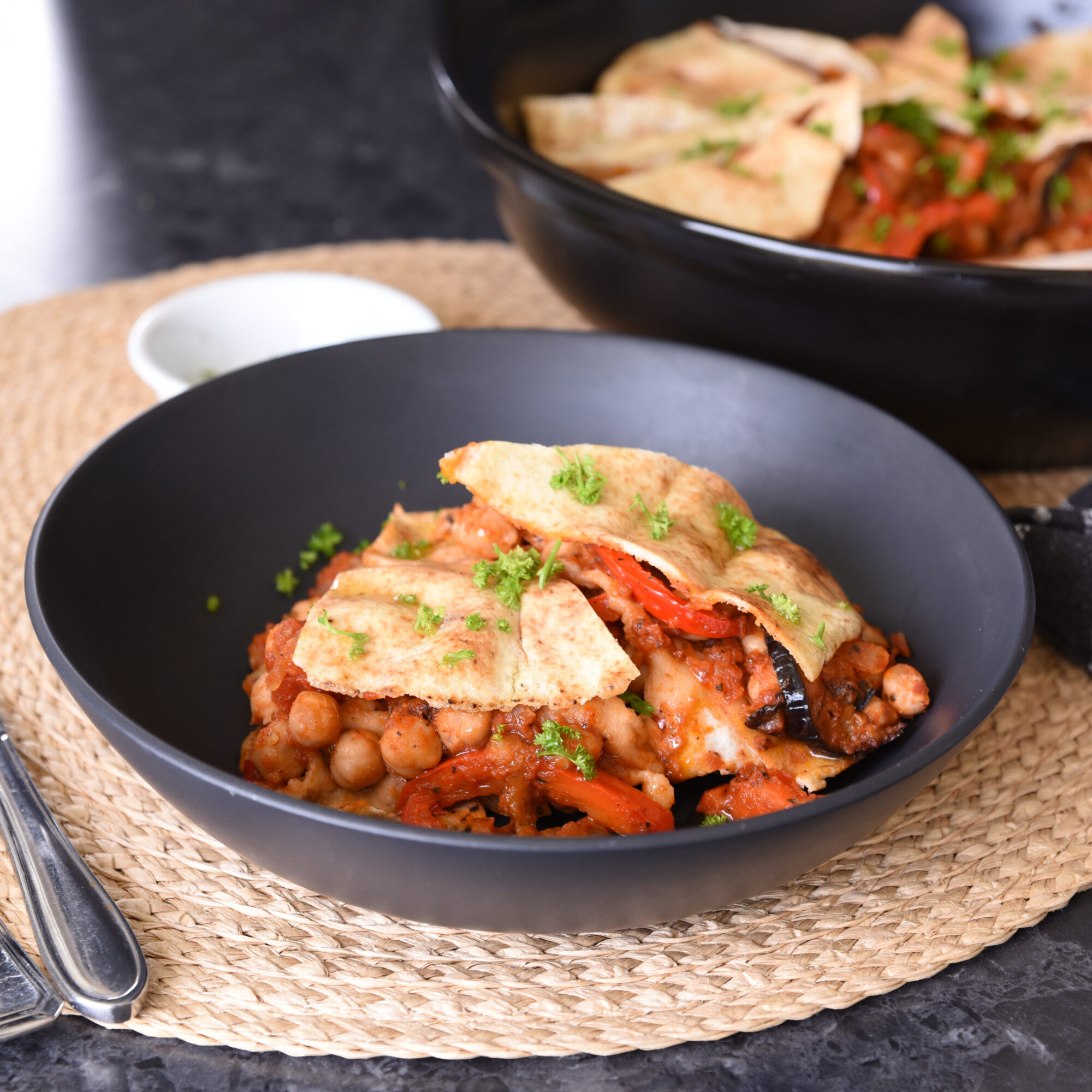 Maghmour is a fabulous vegan chickpea creation that is simple, delicious and will make you happy. We love it so much that we have decided to pay it homage with our own Kiwi twist, stacking it with fine layers of pita bread. Once you've tasted it, you will want to make it again and again! It has similarities to Moussaka, but don't let that fool you, our layered tomato and chickpea stew is a thick smoky dish with no dairy or meat at all.
Traditionally Maghmour is layered with 2 layers of golden roasted eggplant. In our version we have split 4 pita bread, chopped them into 8 triangles and layered them with our Lebanese stew of tomatoes, olive oil and chickpeas to make a delicious hearty one dish meal that will keep you coming back for more.
1
tsp
ground cayenne pepper, (optional)
2
cups
cooked chickpeas (drained and rinsed if canned)
2
cups
chopped tomatoes (fresh or canned)
roughly chopped fresh mint or parsley to garnish
Prep Time15 minsCook Time45 minsTotal Time1 hr
1
Preheat oven to 180C (350F).
2
Heat ½ cup olive oil in a large heavy bottomed pan. Fry onion and garlic until golden, then add sliced capsicum, tomato paste, dried mint, cayenne pepper and salt. Cook over medium heat, stirring, until flavours have combined – about 5 minutes. Add chickpeas, tomatoes and simmer for 15 minutes.
4
In an oven dish, spread one third of the chickpea mixture evenly and layer with one third of the pita bread triangles. Repeat, then spread the remaining chickpea mixture over, and arrange the last third of the pita bread triangles on the surface. Brush with a little olive oil. Bake in the oven for 15-20 minutes before serving.