Pomegranate Drizzle Tahini Bundt Cake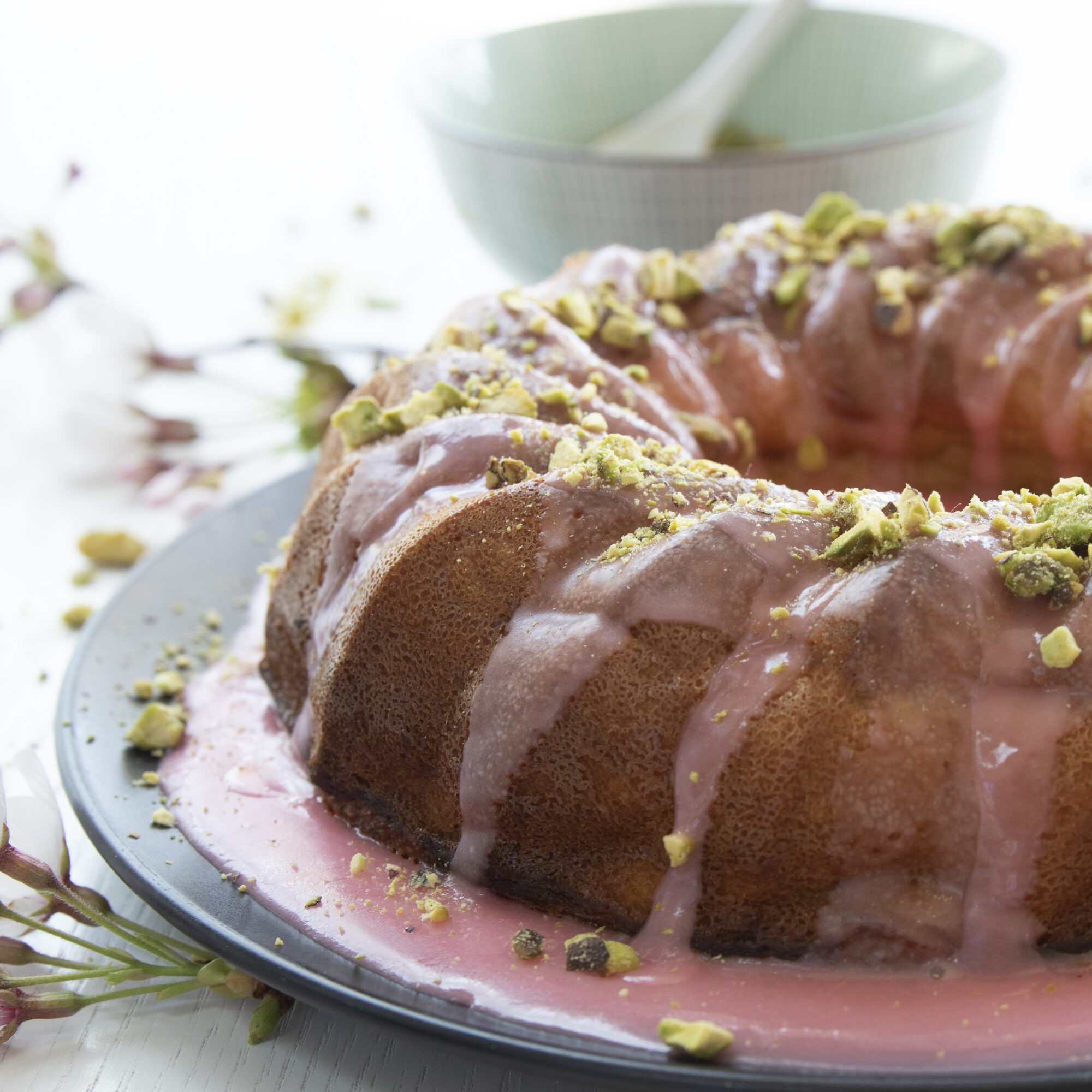 Jamie Oliver recently made this incredible bundt cake on his cooking series, it is full of the delicious Lebanese flavours that we love - tahini, pomegranate and rosewater! This recipe has so many things going for it, it is moist and flavoursome, it is not over-sweet, it is quickly whipped up in the food processor, and it feeds 18 people.
The rosy hue of the drizzle makes this moist, rich, subtly nutty cake too tempting to resist.
What a perfectly simple dessert cake, we'd have a little cream and yoghurt on the side with ours, decadent? We know!
250
g
butter (at room temperature) , plus extra for greasing
100
g
shelled unsalted pistachios
Drizzle
Prep Time15 minsCook Time1 hr 10 minsTotal Time1 hr 25 mins
1
Preheat the oven to 180ºC.
2
Either generously grease a 2-litre non-stick bundt tin with butter, dust with flour, or use an ungreased silicone bundt tin.
3
Place the sugar, flour, baking powder, butter, yoghurt and Alamir Bakery Tahini into a food processor. Crack in the eggs, squeeze in all the citrus juice and blitz until smooth.
4
Pour the mixture into the bundt tin, scraping it out of the processor with a spatula, then give the tin a jiggle to level out the mixture. Bake for 50 to 55 minutes, or until golden and an inserted skewer comes out clean.
Leave the cake to cool in the tin for 5 minutes, then turn out onto a wire rack and leave to cool completely.
5
To make the amazing drizzle, halve the pomegranate and squeeze 30ml of juice through a sieve into a jug, then squeeze in 30ml of lime juice. Pour into a bowl with the rosewater, then stir in the icing sugar to give you a thick drizzling consistency.
6
Smash up the pistachios in a pestle and mortar into a mix of random small chunks and lovely dust.
7
Pour the drizzle over the cooled cake, letting it drip down the sides. Slice, and serve with a sprinkling of pistachio dust.