Smoky Creamy Pasta with Burnt Aubergine and Tarator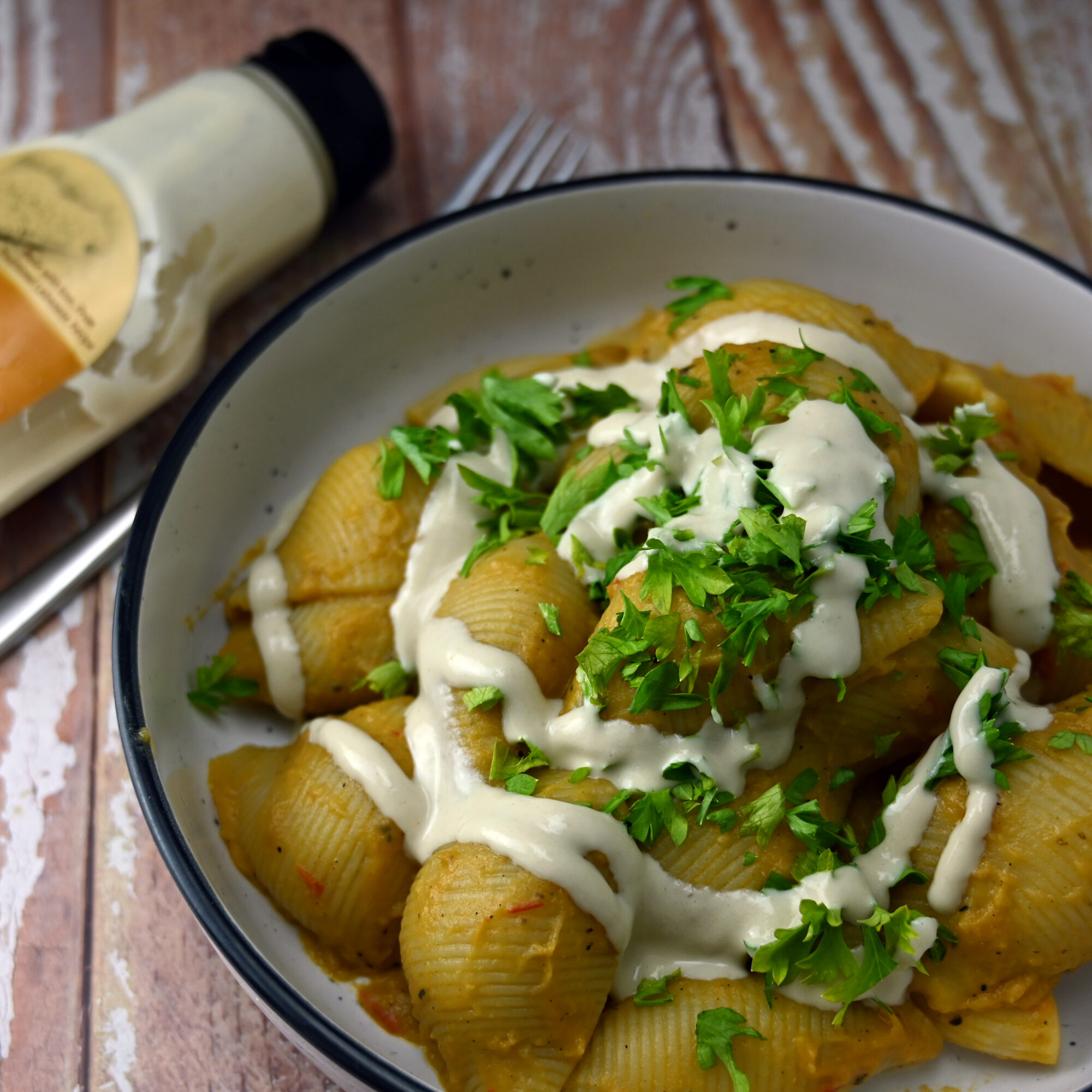 You don't have to be vegan to enjoy this deeply flavoursome pasta dish. Burnt aubergines, charred vegetables and tarator add real depth and a smoky, nutty flavour, resulting in creamy, dairy free pasta.
Char the vegetables in the oven if you don't have a griddle pan.
5
aubergines (1.25kg), 2 cut into roughly 3–4cm cubes and 3 left whole
1
onion, cut into 6 wedges (150g)
2
small vine tomatoes, left whole (200g)
1
red chilli (10g), left whole
300
g
dried pasta shells (conchiglie rigate)
10
g
parsley, roughly chopped
Prep Time10 minsCook Time1 hr 10 minsTotal Time1 hr 20 mins
1
Preheat the oven to 220°C fan. Put the aubergine cubes on a large, baking paper-lined baking tray and toss with 3 tablespoons of oil, 1⁄2 teaspoon of salt and a good grind of pepper. Roast for 30 minutes, stirring halfway through, until deeply browned and softened.
2
Grill your vegetables. Prick the whole aubergines all over with a fork and ventilate your kitchen well. Place a well-greased griddle pan on a high heat and, once smoking, add the aubergines and cook, turning as necessary, for 35 minutes, or until well charred all over. Set aside to cool slightly. Toss the onion, tomatoes and chilli together in a bowl with a tablespoon of oil and grill in the same pan for 10 minutes, turning as necessary, until very well charred and softened.
3
Transfer to a bowl, discarding the chilli stem. Once cool enough to handle, peel and discard the skin and stems of the charred aubergines (it's okay if there is still some skin attached) and add the flesh to the bowl of charred vegetables. You should have roughly 320g of aubergine flesh.
4
Meanwhile, put the tomato paste, paprika, three-quarters of the garlic and 4 tablespoons of oil into a small saucepan on a medium heat and cook, stirring occasionally, until the garlic is fragrant and the tomato paste has turned dark red, about 5 minutes.
5
Transfer this and the grilled vegetables to a food processor, along with 3⁄4 teaspoon of salt and a good grind of pepper, and blitz until completely smooth. Transfer to a large sauté pan and set aside. This is your sauce base.
6
Cook the pasta in plenty of salted boiling water for 8 minutes, or until al dente. Reserve 275ml of the pasta water, then drain the pasta well.
7
Add the reserved pasta water and half the roasted aubergine to the sauce base and heat through on a medium-high heat. Add the drained pasta and stir to warm through, about 2 minutes.
8
Toss the remaining roasted aubergine with the parsley and the last 3 tablespoons of oil.
9
Transfer the pasta to a large serving platter with a lip, drizzle over a good amount of the Alamir Bakery Tarator, (thinned with water if necessary) then spoon over the aubergine and parsley mixture. Serve with extra Alamir Bakery Tarator alongside.