Spicy Beef Skewers with Tahini Sauce.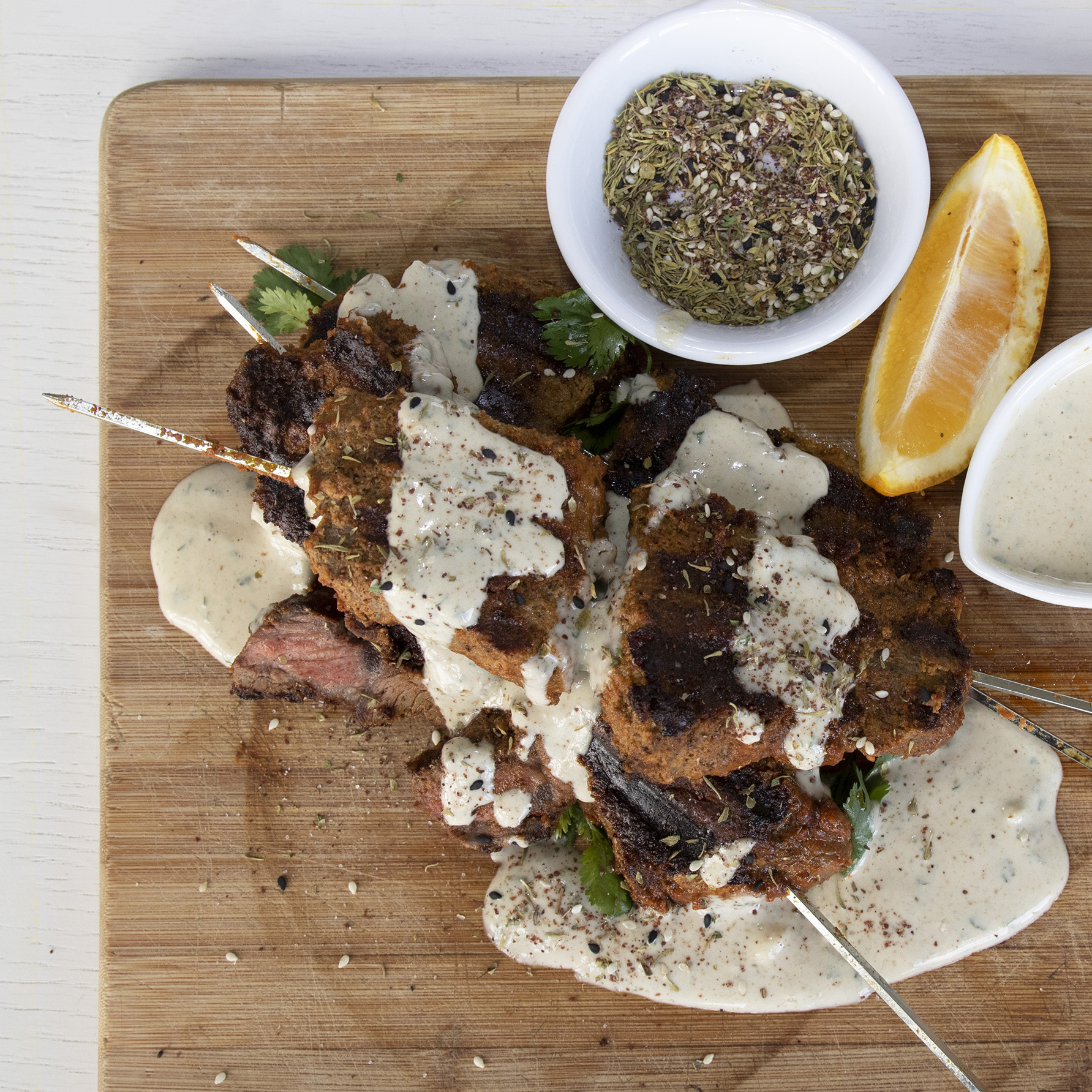 An easy mid-weeker, the harissa adds a nice heat to the meat and complements the tahini in the sauce.
These beef kebabs are simple to make and assemble, and bursting with flavour. Great for a barbecue, or cooked on the grill. add them to your plate of cooked vegetables, or serve them takeaway style, in a warmed Alamir Bakery pita bread with silky Alamir Bakery hummus, your favourite green salads, and topped with the spiced tahini dressing. Delicious!
850
g
beef rump steak, trimmed and cut into 5cm cubes
2
tsp
sweet smoked paprika
1
tsp
cracked black pepper
1
tbsp
extra virgin olive oil
Spiced Tahini Sauce
Small bunch mint, roughly chopped
a few sprigs of coriander to garnish
Prep Time35 minsCook Time20 minsTotal Time55 mins
1
Place the harissa, paprika, Alamir Bakery Tahini , garlic, salt and pepper in a bowl and mix to combine. Add the beef and toss to coat. Cover and refrigerate for 20 mins to marinate.
2
Preheat a chargrill pan, oven grill or BBQ to high heat.
3
To make the spiced tahini sauce, place the yoghurt, Alamir Bakery Tahini , cumin, mint, salt and pepper in a bowl and stir to combine. If needed, add 2-3 tablespoons of water to achieve your desired consistency, set aside.
4
Thread 2 pieces of beef onto metal or bamboo skewers soaked in water, repeat with the remaining beef.
5
Drizzle the beef skewers with the oil and cook for 10 mins, turning, for medium rare or until cooked to your liking.
6
Serve the skewers with the tahini sauce, zaatar, coriander and lemon wedges.